September 17, 2014, by Pam Young
Have you ever stopped to think that there are benefits to being disorganized?
You've probably spent a lot of time berating yourself for being disorganized, but there are actual benefits to your disorder!
1. The disorganized get more exercise.
All I ever wanted to be was a wife and mom, so I majored in Home Economics in college. One of the courses was in cooking which I've always loved to do. Part of the curriculum included a time and motion study to track our steps while baking a cake.
"By being organized," Miss Cratzberry, the professor, told us; "you will save valuable time and energy to use on other activities in your homes. Being aware of the steps we take in the kitchen, preparing the family's meals, is vital to becoming efficient in the daily tasks of homemaking." I'm sure this study was thought up by some efficiency expert like Miss Cratzberry who never married and never had kids. In fact, one of the lessons in her course study was entitled Handling Servants. (Over the years, that information has sure come in handy for me!)
Back to the cake walk; I remember winning the prize for the most steps taken! One quarter mile! (Actually I didn't win a prize as it was supposed to be bad news for me, but I decided to turn it around in my 19-year-old mind into a good thing.) Webster defines a time and motion study as: a systematic observation, analysis, and measurement of the separate steps in the performance of a specific job for the purpose of establishing a standard time for each performance, improving procedures,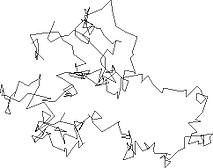 and increasing productivity —called also motion and time study, motion study, time study. This is what I envision my resulting steps to look like.

2. The disorganized don't have to pay to go to the gym.
Years later when I really was a mom and wife, I never forgot the results of my time and motion test. One day it hit me while I was packing up stuff to take to the gym for an hour workout, that with my gift of taking too many steps in life, it really was a benefit! Because of my attention deficit disorganization, I suddenly realized I was probably getting in a full workout every day. In fact, if I didn't go to the gym, I'd save the time, energy and money that that activity took from my day. Put that in your time and motion study Miss Cratzberry!