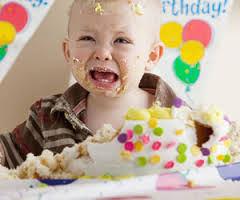 After Party Meltdown
APM is very common among young children. It can happen after a party, a special holiday or any overindulgence. I've seen it played out in all three of my kids and all 12 of our grandchildren. Child psychologists call it
over stimulation.
I remember being in the back seat of our Ford family car and coming home from a glorious day at the circus. My sister and I were decked out in new matching dresses and new shoes we'd got just for the special outing and we started fighting over whose circus program was whose (even though they were identical).
The battle triggered a rash of admonishments from both of our parents in the front seat. Dad was first, "Girls, knock off the bickering or I'm gonna stop the car and take the programs away!" Mom chimed in, "I can't believe you girls are fighting after all we've done for you today. Here we take you to the circus, you got brand new matching dresses and new shoes and we let you have hot dogs and Cokes and souvenirs and you've been fighting ever since we got in the car!" I recall feeling ashamed.
APM tends to go into remission as children mature, but the potential for its reoccurrence remains even into adulthood and it sneaks out in adults in subtle ways but it's no more attractive than the episodes children display.
APM can start with just an, "is-that-all-there-is" feeling. It can emerge as a vacation winds down, as we drive in the driveway with a cranky knowing of what was put off in order to have the fun. It can appear in the form of the "full" feeling after a feast, or the frustration of receiving credit card statements in January reflecting the joy of holiday purchases. Acquisition is fun! Maintenance sucks and so do the bills that follow it.