I think you'll love my recipe for homemade, low carb pizza. It starts with the most sumptuous, delicious sauce that I make from my own tomatoes-- even the crummy looking ones you thought you had to chuck! Then, of course I show you the secret way to get rid of the skins on tomatoes just like you were a master chef at the Ritz. And the crust? Wait 'till you see how we'll make one without rolling out any dough. It's so simple and fun you'll wonder why you thought the only way to serve pizza was to take or bake something in a cardboard box. Never again! Ummmm, the smell is heavenly when it's baking and the gobs of sausage, salami and olives are too yummy for your family to resist. It's time to say "ciao" to the best ristorante in town...your kitchen!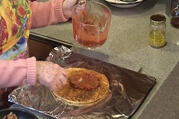 Low Carb Pizza
Fresh Tomato Sauce
About twenty frozen tomatoes
¼ cup water
Penzey Italian spices or taco seasoning and Lawry's Season Salt and salt and pepper if you wish
Simmer for 3-4 hours or more. Skins pull off tomatoes easily when done.
Blend sauce in a blender when it's cooked down. You can keep tomato sauce in fridge for a couple weeks. Fry a pound of Italian sausage and drain.
Crust
Two cups parmesan cheese
½ half cup almond flour
Mix together and fry the mixture on medium high five to six minutes on each side. Cool on a rack.
Build the Pizza
Put crust on a cookie sheet, smear sauce on crust. Put on Italian sausage and other items you choose. Salami, pepperoni, olives etc.
Top with cheese if you wish.
Bake in oven at 400 for five or six minutes.
You can also make bread sticks or croutons out of the pizza crust.
If you like this recipe you might enjoy my book