"The first hunk was just like mud!"
That's what popped into House Fairy's brain after her first taste of an avocado. But then after she tried it again, and again and again....voila. Love at third bite! Getting your kids to try new foods takes patience and a little silliness and the House Fairy encourages them all along the way. (Clown nose optional!)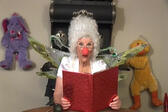 We all know how hard it is to convince our littlest eaters that sometimes a food looks like....well.....nothing polite people can say at the table. And sometimes our first attempt tasting it doesn't go that well either.... the House Fairy tells us her first bite of that mushy-smooth avocado made her want to spit it out. Yikes! But then, after giving it a few more chances, it's now one of her favorite foods. Who knew? So what's a parent to do when you want your kids to establish good habits when it comes to trying new foods? You tune into this video and join the House Fairy on crunching and slurping your way into yummy new mouth-watering adventures. Bon appetite, Snuggle Bunnies!
I hope when your finicky eaters watch the House Fairy discuss trying new foods in this video, they'll actually ask to try something new!