Hey Mom, are you starting to hear, "I'M BORED" and summer's only half over?" Here are some off-the wall activities for your kids coming from a mom who thought up stuff AFTER her own kids were raised. In other words, a grandma came up with the stuff because she has what young moms aren't that familiar with…LEISURE TIME TO THINK!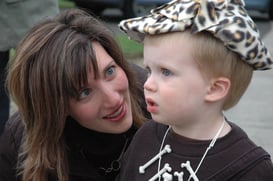 This grandma remembered that her kids loved to watch other kids get in trouble, like at the store when a mom yelled at her kid in public. Kids will rubber neck just like adults do when someone is in trouble on the freeway, so you can take advantage of that. Here's what this grandma did with her three-year-old granddaughter, McKenzie.
The mom, Joanna (the grandma's daughter) came to pick McKenzie up after she'd spent a fun-filled morning and afternoon with her grandma. When the mom walked in the door, McKenzie started in on a predictable, I-Don't-Want-to-go-Home fit! Joanna and her mom knew they were in for a meltdown and when Joanna went back out to her car to get McKenzie's sandals, the grandma's mind kicked into creative gear.
"McKenzie, do you want to see something fun?"
"What?" she sniffed.
"If, you'll be good when your mom comes back in with your shoes, and you let her put them on, AND you don't throw a big fit when you leave, I will throw a huge fit."
The toddler liked the proposition and so when Joanna came back in, the grandma went into action. She threw herself down on the carpet, kicked her body into a pinwheel, going around while she screamed, "I don't want Kenzie to go home! WHAAAA!WHAAAA! Joey, don't take her home! Puleeeeze! WHAAAA WHAAAA!!"
McKenzie was impressed with the well manufactured fit; Joanna was stunned by the drama until she saw that it was just part of a show.
When the grandma was through with the fake fiasco, McKenzie proceeded to keep her part of the conspiratorial bargain as she let Joanna put her shoes on and pack up her stuff. Before the visitors were about to leave, McKenzie said to her grandma, "Do it again Gramma."
The grandma, being the good sport that she is, threw another fit for the road.
BREAK A RULE FOR THE FUN OF IT
There aren't many rules that should be broken for the fun of it, but here are a few "why nots."
Why not eat UNDER the table for a meal?
Why not let the kids take a shower with their clothes on?
Why not T.P. the living room or family room and then use the toilet paper for a papier-mâché project? Incidentally, a great craft idea using the medium of papier-mâché is to use a stuffed animal you no longer want for the form. Kids of all ages love papier-mâché activities and using a professional form will give the piece a professional look.
Why not let your kids experiment in the kitchen? (That's how the grandma who wrote this blog turned out to be a fabulous cook.)
Why not let the kids sleep out in the car?
Why not let the kids get into the costume box and go out Trick-or-Treating? When this grandma did that with her grandkids, they came back with money, produce, candy, baked goods and popsicles.
This grandma will be taking these ideas on live television next week and she'll send you the link to the show with these and more ideas! Be sure to stay tuned. This grandma also invented the 3x5 card file system for getting your home and family organized. Click on the CD to order!