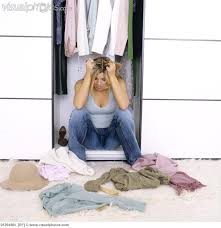 September 24, 2014, by Pam Young
Doing laundry is so simple, so why do we let it pile up and then make such a big fuss about it? There are several reasons, but the first one is, that it's so simple; therefore it's easy to procrastinate. If we had to haul water from the well and heat it over a fire we had to build earlier, or had to drag our clothes down to the river with homemade soap and a scrub board, we'd have to have a laundry day and we wouldn't put it off so easily.
One other problem we create when it comes to the laundry is having too many clothes. You can bet if you took the amount of clothing you have today and went back to the pioneer days as you came west to build a log cabin, you'd create your own Oregon Trail with the unneeded duds real fast.
The laundry room is a great place to declutter, because you get a chance to look at your family's wardrobe and discard rather than launder.
Even though laundry is simple enough a child can do it, it does have a four-part process: wash, dry, fold, put-away and leaving any step out spells trouble. So always keep in mind the four parts.